Blog categories

LUXURY & STYLE
$22.000
Boulle execution including palissander veneer and hand-chiseled brass. The red and black veneer is a thin sheet of coloured wood. The 3 chimes movement includes 11 genuine rubies: this longcase grandfather clock is a jewel indeed. Incredible pricing: 17,500 € instead of 21,000 €.
$15.000
Real contemporary pendulum clock. The founder Mr. Antonio decided to enlarge the clock style selection by including new materials. The son David decided for a mix to put in new homes and beauty farms due to the back waterfall over the white stone. Now, we can offer a perfect mix of modern and tradition to enrich any atmosphere. Only 15.000 €: contact us for this exclusive piece!
Luxury Grandfather Clocks: Italians do it better!
Published : 06/18/2018 07:02:37
Categories : Default
When you want something luxurious, there is little to be done: you must orient yourself towards the unique quality and the important style of the Italians. In the sectors of fashion, interior design and Luxury Grandfather Clocks, Italians do it better! In fact, Italy raised famous artists like Leonardo da Vinci, Michelangelo, Raffaello Sanzio; maybe it's because in our blood flows something of them or maybe it's simply our nature, but when we decide to create a work of art, we are always the Number One!
Why should you choose to buy Italian Luxury Grandfather Clocks? First of all, for our indistinguishable style, which characterises and differentiates us from the rest of the world. You can't avoid being bewitched by the charm of the Italian Luxury Grandfather Clocks, whether they are floor or wall clocks.
For example, lose yourself in this Grandfather Clock in venetian style: the entire structure is made of solid Italian olive wood, with a brilliant colour, which makes a perfect union with the clock face. This one is elegant and very rich of details, which make it charming also to all those who love, above all, modern Luxury Grandfather Clocks.
Regarding the sense of modernity, Italians can create Luxury Grandfather Clocks with an uncommon design but maintaining at the same time a contemporary style. The most incredible example is this Floor Grandfather Clock, that can act as a waterfall and can be perfectly suitable for modern houses. This is the perfect mix between modernity and functionality!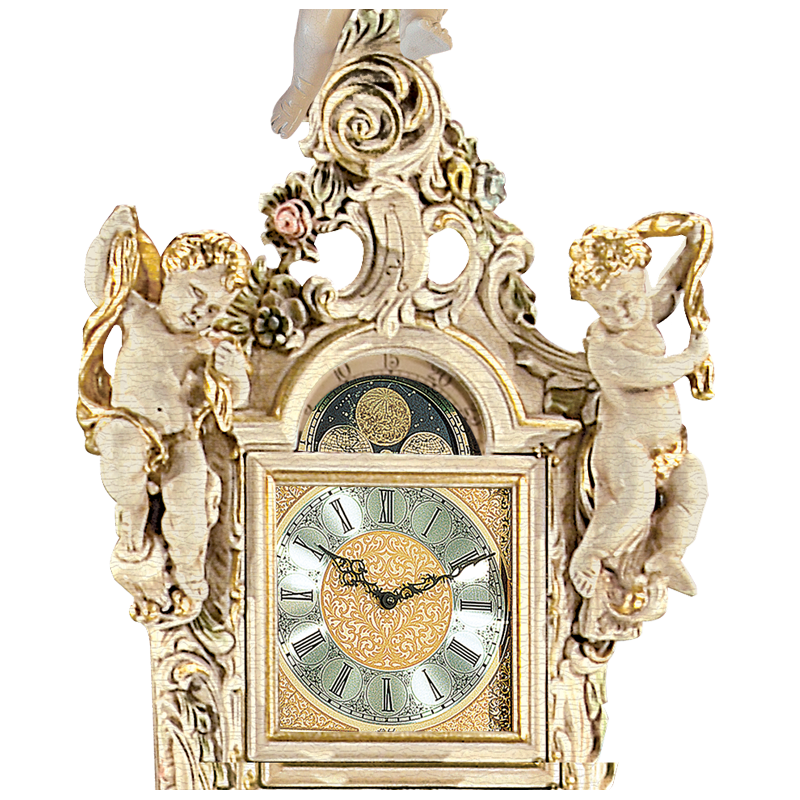 Another reason why you should choose Italian Grandfather Clocks is, obviously, our gift for handcrafting: painting, sculpture, and all the other arts don't have secrets for us. Admire this Grandfather Clock: it's difficult to find someone who can carve a masterpiece like this. The carving of the leaves and flowers and the sculptures of the angels emphasize the beautiful pendulum in the background. Everything of this Luxury Grandfather Clock can make you speechless and it's obviously "made in Italy"!
And finally, Italians are champions for quality. Our products, which are envied all over the world, are created with particular attention not only to the design, but also to the resistance and to any other intrinsic characteristics. It's for this reason that our Luxury Grandfather Clocks are so researched, and they represent a little piece of heaven in your home. Italians do it better, always!
Summing up, why should you choose an Italian Luxury Grandfather Clock? Because Italians can conjugate in a perfect way the style, the handcraft work and the quality of the products. Thanks to all these aspects we can bring to our home a lot of artworks. On our website, you can find a lot of Luxury Grandfather Clocks created by Altobel Antonio's ingenuity and you can choose the perfect one for you! If you need more information, don't hesitate to contact us!
Share this content
Add a comment