Blog categories

LUXURY & STYLE
$16.000
Boulle execution including palissander veneer and hand-chiseled brass. The red and black veneer is a thin sheet of coloured wood. The 3 chimes movement includes 11 genuine rubies: this longcase grandfather clock is a jewel indeed. Incredible pricing: 16,000 € instead of 21,000 €.
$15.000
Real contemporary pendulum clock. The founder Mr. Antonio decided to enlarge the clock style selection by including new materials. The son David decided for a mix to put in new homes and beauty farms due to the back waterfall over the white stone. Now, we can offer a perfect mix of modern and tradition to enrich any atmosphere. Only 15.000 €: contact us for this exclusive piece!
Italian hand carved Grandfather Clock: embellish your decor's room
Published : 12/15/2017 14:47:15
Categories : Default
If you are looking for new ideas to furnish with style a room or, more generally, your home, betting on an Italian hand carved Grandfather Clock will certainly give a touch of exclusivity and refinement to the whole environment.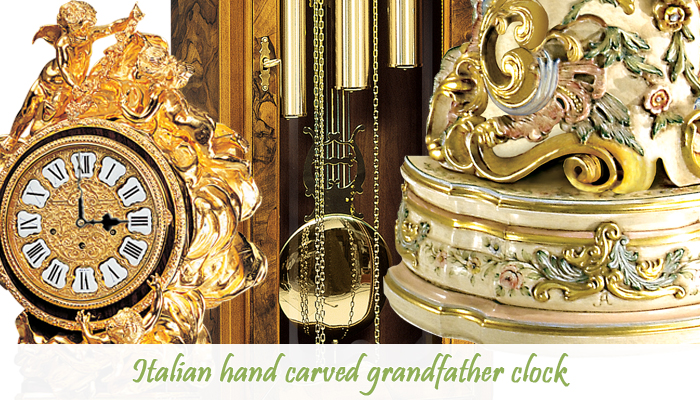 Perhaps you are wondering why, nowadays, you should choose an Italian hand carved Grandfather Clock when you could buy a digital watch. In the same way, why should you look for an original hand-made Persian rug when you could buy beautiful, mechanically made carpets that are cheaper and often more durable? Again, why should you commission a painting when you could take pictures that show the reality of things more accurately?
The answer to these questions is one and is very simple: Italian hand carved Grandfather Clocks, Persian carpets and paintings have all been done manually and therefore represent works of art. Even the objects produced mechanically are, undoubtedly, of good quality but, not having been made by hand, they cannot be considered art.
The prominence of an Italian Grandfather Clock, an object of art and of great value, is what gives character to the style of a hall. Its regular ticking in the background is what spreads a welcoming atmosphere all around. It will adapt perfectly to any context in which you decide to include it: both in a classic one and in a modern one, to create contrast.
Buying an Italian hand carved Grandfather Clock is definitely an important decision that needs a careful evaluation. It depends on your personal tastes and on how you want to decorate your home. Two of the things you can be sure of, making a choice like this, are that:
• You will transmit to your guests your appreciation for beautiful things;
• Your home will be given that sense of completeness only an object of this type can give.
Before starting your research, given the large size that Grandfather Clocks generally have, make sure you have enough space to place one.
If you do not have enough room for a floor model, you can always resize your perspective and opt for wall or table models. They will have a less stunning effect, but will still guarantee that touch of sophistication and style that you were looking for.
On our website, given the wide range of models available, you will surely find the Italian hand carved Grandfather Clock more suited to your home. Grandfather Clocks signed Altobel Antonio are famous for their quality, care in the choice of materials used and attention to small details. If you need some advice for your choice or you would like some more information, feel free to contact us!
Share this content
Add a comment